How to Get More Matches on Interracial Dating Apps?
Posted by interracial-dating-app.com | August 22, 2018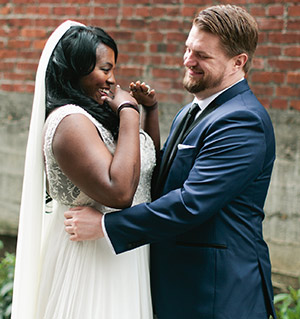 Interracial dating apps are the most popular dating platform for the interracial singles to meet each other and to friendship, dating and even getting married.

In fact, it has become one of the easiest platforms on the mobile phone to let the black people dating white people.

This is the very reason why the users of interracial dating App look for how to get more interracial matches so as to meet the dream mate as soon as possible.
1. Show a smile in your main profile photo.
Your first photo should show your eyes focused out at potential dates, and smiling in your profile photo will immediately make you seem more open and approachable.
2. No. Sunglasses.
The data show that interracial dating profiles with sunglasses in the first image get about 20 percent fewer likes than those without sunglasses. Your first photo or two should show your whole face. Five or six photos are perfect, including head and full-body.
3. Use photos to show off your personality.
It's good to show your life through your photos. Try to show off your family, your friends, your hobbies. If you're a triathlete, use a picture of you training or crossing the finish line. If you're really into art or museums, put up a photo of you with your favorite painting.
4. Use Interracial Dating App on Sunday.
Sunday is the best time to use interracial dating app. Research shows that peak time for singles on dating apps are all on a Sunday. I'm not saying that only use it on Sunday, I suggest to spend some time to use it every day and take a little more time on Sunday.
5. Message first.
If you want to get more your profile looked at by others, please send message to other singles first, particularly for men. Don't ever expect miracle in standing, waiting. Don't be afraid of other singles not respond to your message. No matter respond or not all are normal, there is always people will like you! And no just saying "hi," "hey," or "hello" like everybody else does, make things interesting.
Examples:
- How's it going? I'm ...
- Fancy meeting you here. I'm ...
- Your profile made me smile.
- Based on your profile, I think we'd hit it off.
6. Keep your profile up-to-date.
Dating profiles that have been recently updated are seen more often, so you're giving yourself a boost in views just by mentioning new interesting thing around you or a book you just read. Or change your profile picture every few weeks.
7. Check spelling and grammar.
Over 75% of interracial singles say they are less likely to respond to someone who has grammar or spelling mistakes in their dating profile.