Serena Williams Never Thought She Would Have Married A White Guy
Posted by interracial-dating-app.com | May 7, 2018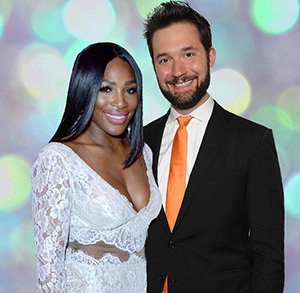 When Serena Williams was a single black woman dating and looking for her soul mate, she never imagined her dream guy would be someone like her now husband, tech co-founder Alexis Ohanian.
Love Truly Has No Color
It wasn't because they come from two different worlds—he's a tech millionaire who co-founded Reddit and she's a 23-time Grand Slam winning tennis superstar—but rather, as she put it, "I never thought I would have married a white guy."
The couple met in May 2015 at the Cavalieri Hotel in Rome. When he sat down at the empty poolside table next to her, Williams recalls trying her best to get him to move, but he didn't budge and they instead struck up a conversation and hit it off. In November, they tied the knot in a gorgeous fairytale New Orleans wedding just two months after welcoming their daughter, Alexis Olympia.
Despite their obvious differences, their relationship, Williams believes, is a testament to the power of love.
"Literally all I tell Alexis is, 'well, you know, there's such a difference between White people and Black people.' He always gets to hear about the injustices that happen; that wouldn't happen if I were White. It's interesting. I never thought I would have married a White guy, either, so it just goes to show you that love truly has no color, and it just really goes to show me the importance of what love is."
>> Click to Join Interracial Dating Site